The Dangers of Mold in the Home and How to Remove It
6/23/2022 (Permalink)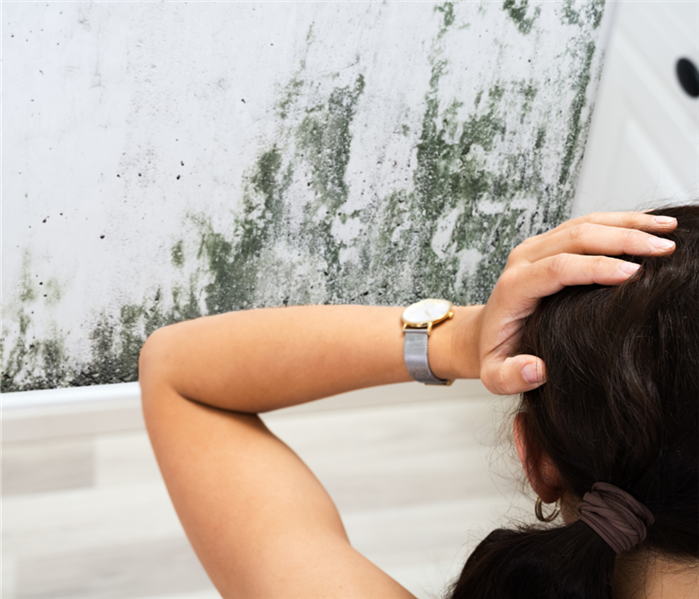 You can contact SERVPRO of Citrus Heights and Roseville / Carmichael. We are here for you for your mold mitigation needs.
Mold, also known as mildew, is a fungus that grows in moist and damp areas of the home, such as basements and bathrooms. It's invisible to the naked eye, but it produces toxic spores and can be dangerous. If you notice mold growing in your home, it's important to address the problem right away to ensure the safety of your family and protect your property from permanent damage. Here are some tips on how to remove mold in the home.
Why does mold grow?
Molds grow because they need food, water, and air. Molds spread quickly because they can live on almost any organic material. They are able to grow on: wood, paper, cardboard, cellulose materials such as clothing or carpeting, non-cellulose materials like leather or plastic. In order for mold to grow it needs moisture and a source of food.
Signs and symptoms
Mold can be difficult to spot, but if you know what you're looking for, it shouldn't be too hard. If your house has any signs of moisture problems—swelling walls or ceilings, cracked paint, water stains on wood or rust-colored mold growing on surfaces—or a musty smell and feel, you might have mold. Read your home carefully, as areas with little light or air circulation are especially prone to mold growth. Common places include basements, crawl spaces, attics and behind shower curtains.
The importance of dealing with it as soon as possible
Mildew, mold, algae - whatever you call it, it's not something you want lurking around your home. While mold is a natural substance that can be found almost anywhere, some varieties are toxic and even lethal. Inhaling or touching toxic mold can cause allergic reactions worse.
DIY methods of removing mold yourself
One easy, safe way to remove mold is by using cleaners like Bleach. Mix 1 part bleach with 9 parts water and spray on affected areas. This will help kill off mold spores, but you may want to seek professional advice if you have breathing problems or are pregnant. While you can mix up your own solution at home, bleach may cause discoloration of some types of materials or damage surface treatments; it's better for small jobs that don't require precise measurements.
When should you call a professional?
Some mold removal jobs are easy enough for homeowners to tackle on their own, but you should call a professional if you suspect that any mold has made your home unlivable or is creating health problems. If you can see or smell mold, it's time to call a pro. You can contact SERVPRO of Citrus Heights and Roseville / Carmichael. We are here for you for your mold mitigation needs.